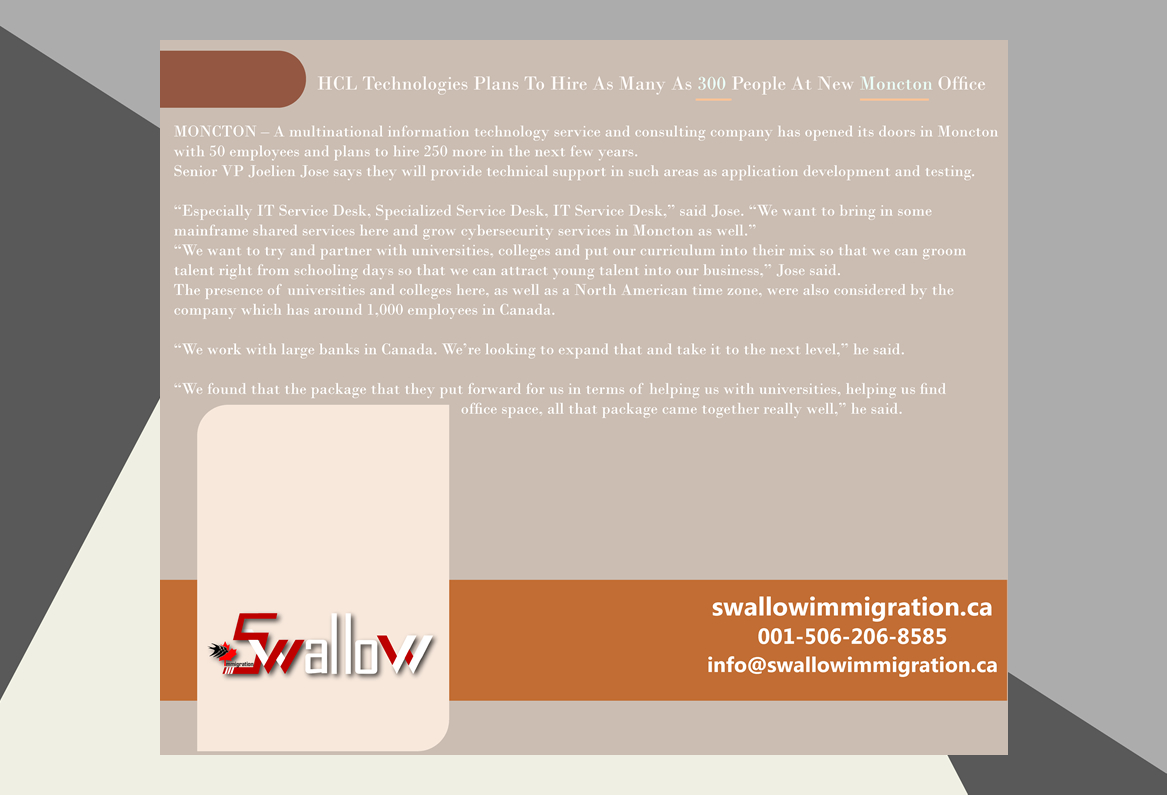 HCL Technologies Plans To Hire As Many As 300 People At New Moncton Office
Oct 30, 2019
MONCTON – A multinational information technology service and consulting company has opened its doors in Moncton with 50 employees and plans to hire 250 more in the next few years.
The office, which became operational a few months ago, serves as HCL Technologies' first delivery center in Canada. The company has 147,000 employees across 44 countries.
Senior VP Joelien Jose says they will provide technical support in such areas as application development and testing.
"Especially IT Service Desk, Specialized Service Desk, IT Service Desk," said Jose. "We want to bring in some mainframe shared services here and grow cybersecurity services in Moncton as well."
"We have clients in all verticals, banking, telecom, healthcare and so on. We certainly want to grow our footprint, both terms of delivery, but also in terms of tapping into businesses locally. That is part of the strategy that we have," Jose says.
With around 50 employees already working there, HCL expects to grow the headcount to 300 over the next three years. Out of that total, 60 will be sourced locally in New Brunswick, said Economic Development and Small Business Minister Mary Wilson, who is also responsible for Opportunities NB.
The company is also in contact work with universities and colleges to source local talent.
"We want to try and partner with universities, colleges and put our curriculum into their mix so that we can groom talent right from schooling days so that we can attract young talent into our business," Jose said.
HCL Technologies is eligible for an investment of $6.26 million from Opportunities NB, through a payroll rebate, a forgivable loan, and non-repayable contributions.
"This is a win-win for New Brunswick," said Wilson. "Population growth and economic development depend upon each other. We need new jobs and new people to prosper and grow. HCL is bringing skilled newcomers and creating jobs for our graduates, both of which will help to strengthen our workforce and energize the private sector. Our province welcomes them, their incredible team, and this exciting new growth."
Moncton is attractive because HCL already has clients and some staff working at client locations in the city. It's also a central location in the Maritimes and has a bilingual workforce, says Raju Alluri, HCL's Boston-based global operations director who will lead the Moncton office.
The presence of universities and colleges here, as well as a North American time zone, were also considered by the company which has around 1,000 employees in Canada.
"We work with large banks in Canada. We're looking to expand that and take it to the next level," he said.
"We found that the package that they put forward for us in terms of helping us with universities, helping us find office space, all that package came together really well," he said.
He said smaller cities have talent that ends up going to prime cities. HCL wants to retain talent in the smaller jurisdictions. It did that when it opened its first global delivery center in Cary, North Carolina, 10 years ago. That office started with 50 people and has grown to 1,500 staff members.
For more information follow the link below:
https://huddle.today/hcl-technologies-plans-to-hire-as-many-as-300-people-at-new-moncton-office