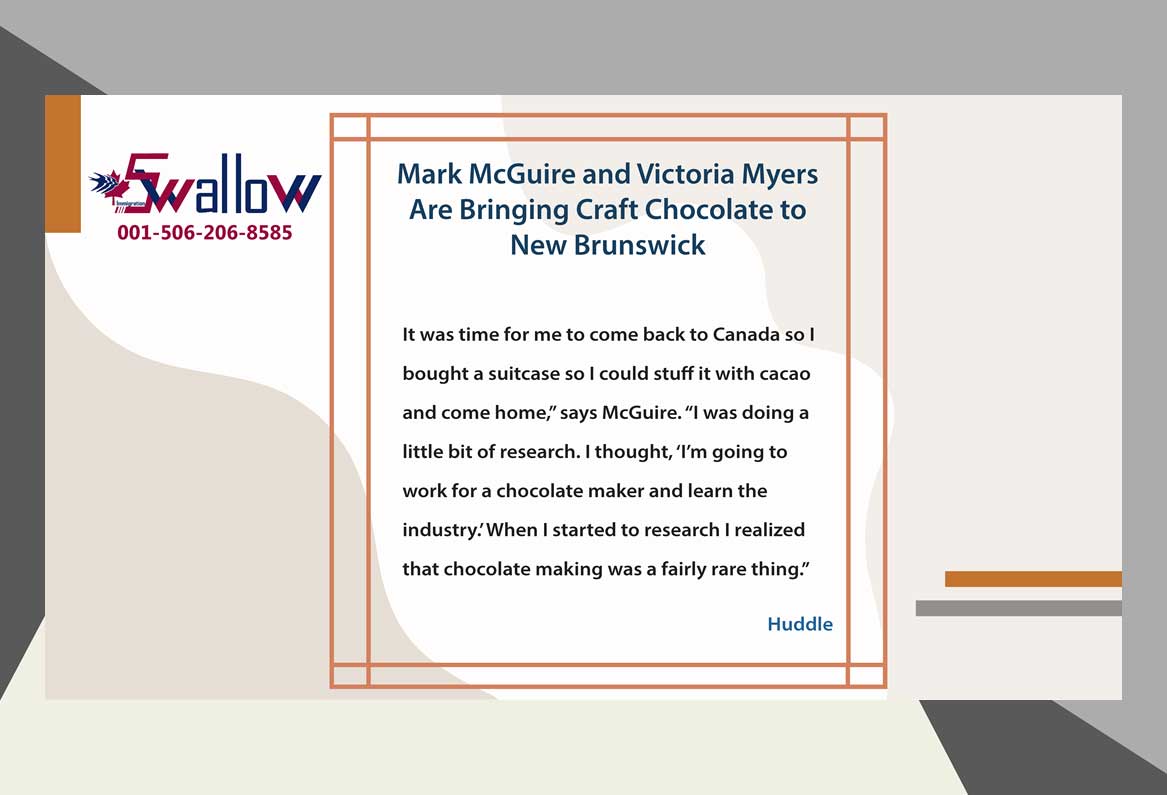 How Mark McGuire and Victoria Myers Are Bringing Craft Chocolate to New Brunswick And Beyond
Mark McGuire and Victoria Myers are the owners of McGuire Chocolate, a company the specializes in single-origin chocolate made with only three ingredients. Their chocolate is made with fermented cacao grown by small farmers/profit sharing co-ops, organic cane sugar, and cocoa butter. The couple and their cat Hank moved from Calgary to St. Andrews this past summer, where they set up their factory and storefront on 174 Water Street.
The company got its start three years ago when McGuire was traveling in Nicaragua where he first learned how to make chocolate from fresh cacao. When he came back home to Calgary, the passion began to grow.
It was time for me to come back to Canada so I bought a suitcase so I could stuff it with cacao and come home," says McGuire. "I was doing a little bit of research. I thought, 'I'm going to work for a chocolate maker and learn the industry.' When I started to research I realized that chocolate making was a fairly rare thing."
They chose St. Andrews for the new McGuire Chocolate HQ for several reasons. One being that McGuire spent part of his childhood in nearby Saint John. The others are more practical, including low real estate prices and proximity to the United States border.
We import our cacao beans and there are only a few warehouses in North America that are certified to be able to house cacao because it is a very sensitive product and they are both in the United States," says McGuire. "When we imported our cacao in Calgary, we'd have to pay for a customs broker. That would add on to your material costs. Being close to the U.S. border and having things shipped to Maine and broker them ourselves coming across saves us a lot of material costs."
McGuire says the company is working with Opportunities New Brunswick and other organizations that offer programs to help small businesses export.
"Right now, the growth strategy is to pick up more Canadian stores," he says. "And then into 2020 and beyond we want to start going down into New England and getting some stores on board there.
https://huddle.today/how-this-couple-and-their-cat-are-bringing-craft-chocolate-to-new-brunswick-and-beyond