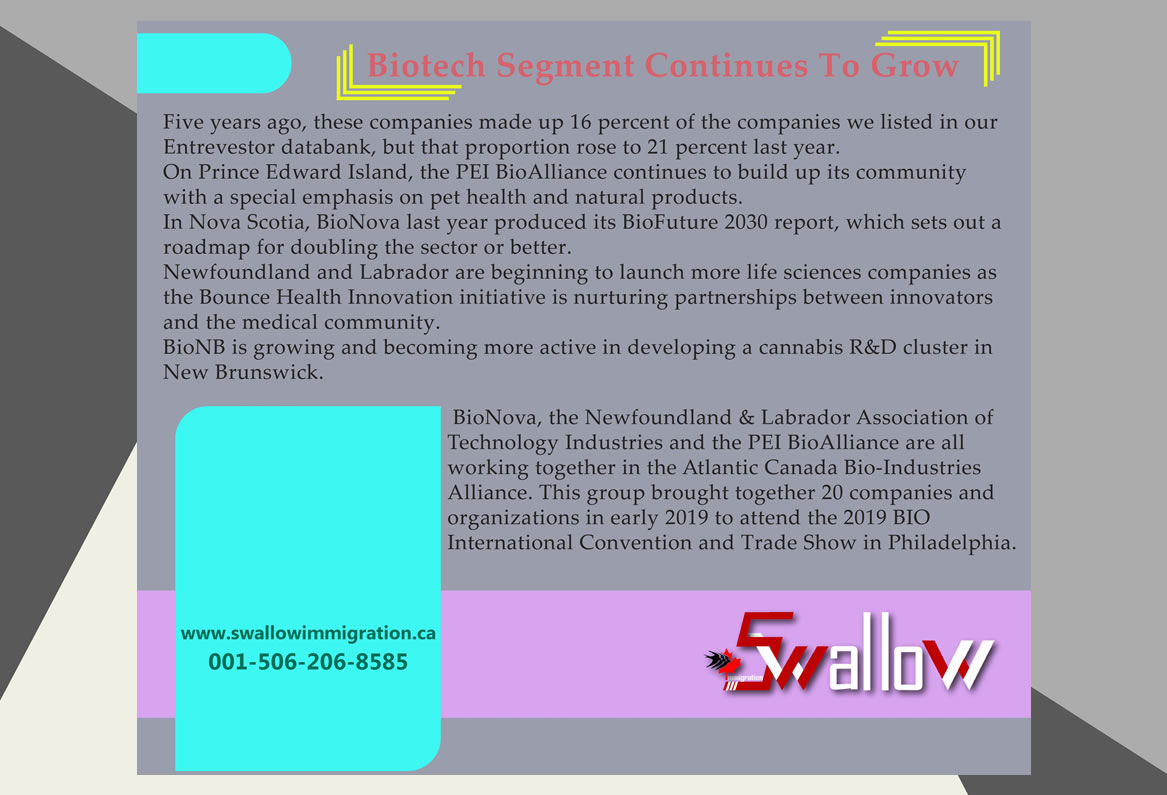 Biotech Segment Continues To Grow
One of the strongest developments in the Atlantic Canadian startup community in recent years is the development of the life sciences segment – both the biotech companies and the ecosystem that supports them.
Five years ago, these companies made up 16 percent of the companies we listed in our Entrevestor databank, but that proportion rose to 21 percent last year. And our research shows that the number of people working at Atlantic Canadian-owned life sciences companies rose 25 percent in 2018 to almost 1,300, while the companies that provided us with sales data showed a 95 percent increase in revenues. There were 24 new life sciences companies in 2018 (up from six in 2014) so that one-fifth of the region's biotech companies were launched in 2018.
Finding a theme in this sector is difficult because there are several initiatives taking place across the region. On Prince Edward Island, the PEI BioAlliance continues to build up its community with a special emphasis on pet health and natural products. The BioAlliance's Emergence incubator is growing into a more regional initiative.
In Nova Scotia, BioNova last year produced its BioFuture 2030 report, which sets out a roadmap for doubling the sector or better. It plans to triple employment to 4,100 jobs and quadruple revenues to $1.1 billion. It is also calling for new ecosystem initiatives, such as an accelerator to teach sales to life sciences companies.
Newfoundland and Labrador are beginning to launch more life sciences companies as the Bounce Health Innovation initiative is nurturing partnerships between innovators and the medical community.
BioNB is growing and becoming more active in developing a cannabis R&D cluster in New Brunswick.
These provincial groups are working together more than ever before, as the life sciences group of the Atlantic Growth Strategy is bringing them together to work on common goals. BioNB, BioNova, the Newfoundland & Labrador Association of Technology Industries and the PEI BioAlliance are all working together in the Atlantic Canada Bio-Industries Alliance. This group brought together 20 companies and organizations in early 2019 to attend the 2019 BIO International Convention and Trade Show in Philadelphia.
For more information follow the link below:
http://entrevestor.com/ac/blog/biotech-segment-continues-to-grow