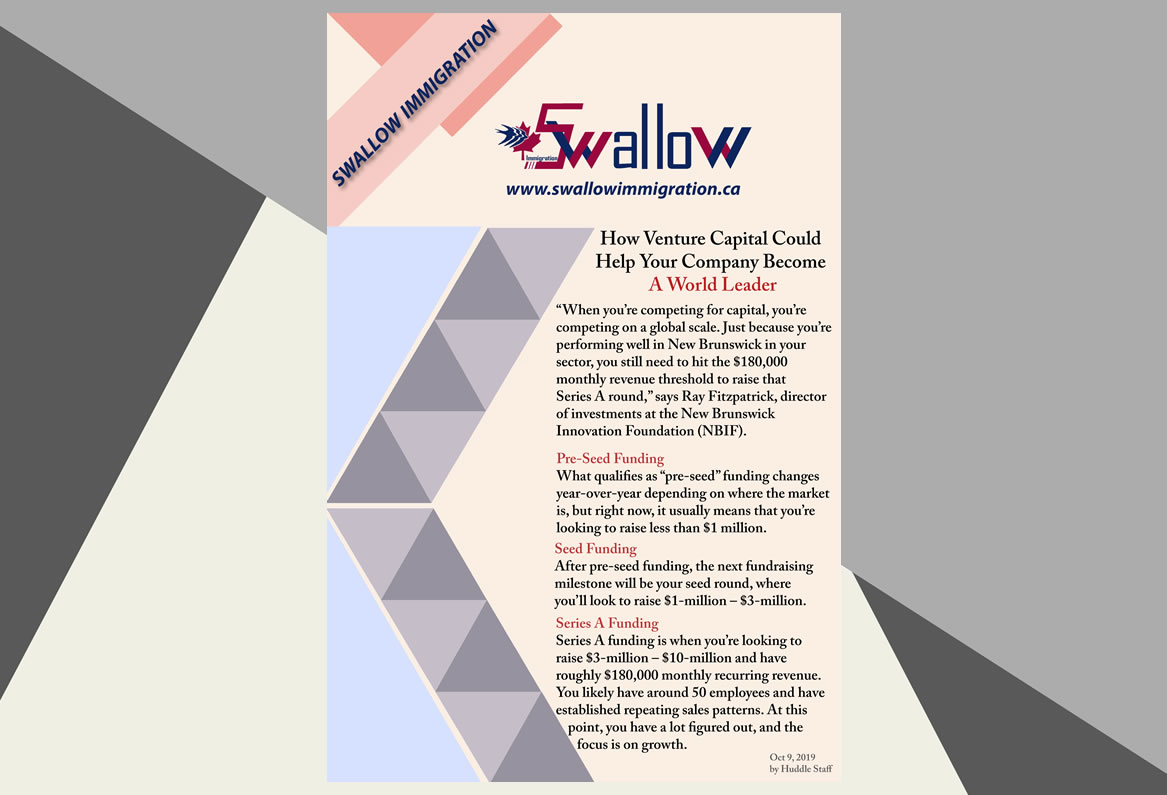 How Venture Capital Could Help Your Company Become A World Leader
Oct 9, 2019
by Huddle Staff
If you want your company to become a player on the world stage, it's going to take a lot of work – and a lot of money.
But exactly how much capital do you need and when should you start seeking it?
In fact, if you want your company to become a global leader in its sector, you better make sure it's ready to step to the global competition, even if you're seeking money at home.
"When you're competing for capital, you're competing on a global scale. Just because you're performing well in New Brunswick in your sector, you still need to hit the $180,000 monthly revenue threshold to raise that Series A round," says Ray Fitzpatrick, director of investments at the New Brunswick Innovation Foundation (NBIF).
Fitzpatrick gave us the rundown on what each type of startup funding means, and what your business needs to get there:
Pre-Seed Funding
What qualifies as "pre-seed" funding changes year-over-year depending on where the market is, but right now, it usually means that you're looking to raise less than $1 million.
At this stage, you're really trying to build something. You have an idea for a product, and you might have proof-of-concept. You might have a demo, but it might not be fully functioning," says Fitzpatrick.
NBIF participates in pre-seed funding through its Startup Investment Fund, which is investments anywhere from $100,000 to $200,000. A lot of the time, the pre-seed companies NBIF invests in are ones the team comes across on their own.
If an organization like NBIF participates in a pre-seed round, they will continue to work with the company as it grows.
"Whenever we meet with someone, generally they're in the pre-seed category where we're trying to get to know them. I like to say that it's cheap due diligence for NBIF. You never know how someone is going to act until you start really working with them. We put $100,000 to $200,000 in and see what the relationship is like," says Fitzpatrick.
Seed Funding
After pre-seed funding, the next fundraising milestone will be your seed round, where you'll look to raise $1-million – $3-million.
Companies at this stage are starting to build a customer base and making around $30,000 in recurring monthly revenue and are looking to take it to the next level.
NBIF also contributes to seed rounds for New Brunswick startups. Oftentimes with companiesو they've worked within the pre-seed round.
Series A Funding
Series A funding is when you're looking to raise $3-million – $10-million and have roughly $180,000 monthly recurring revenue. You likely have around 50 employees and have established repeating sales patterns. At this point, you have a lot figured out, and the focus is on growth.
"It's a lot more volatility than just ticking up the latter, unfortunately, but that's the way it goes," says Fitzpatrick. "When I look at our portfolio right now, we have 60 companies. I'd say about a third of them are in that seed-stage range, they're trying to graduate to the next level, and the other 2/3 would be in the seed and Series A stage."
For more information follow the link below:
https://huddle.today/how-venture-capital-could-help-your-company-become-a-world-leader