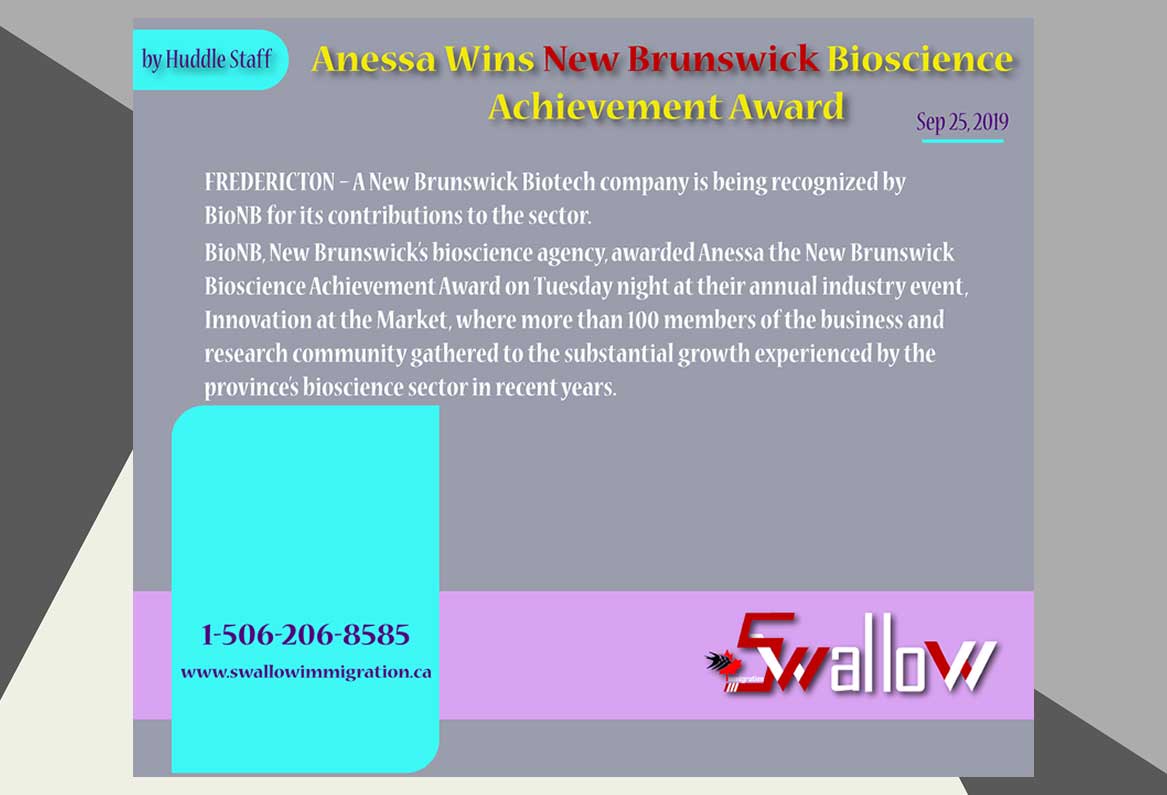 Anessa Wins New Brunswick Bioscience Achievement Award
Sep 25, 2019
by Huddle Staff
FREDERICTON – A New Brunswick Biotech company is being recognized by BioNB for its contributions to the sector.
BioNB, New Brunswick's bioscience agency, awarded Anessa the New Brunswick Bioscience Achievement Award on Tuesday night at their annual industry event, Innovation at the Market, where more than 100 members of the business and research community gathered to the substantial growth experienced by the province's bioscience sector in recent years.
The New Brunswick Bioscience Achievement Award is bestowed every year to an individual, company or research team, in recognition of their outstanding contributions to the growth and promotion of the sector and whose contributions have helped to put New Brunswick on a national or global stage.
Previously known as Wentech Solutions, Anessa is a biogas software company specializing in decision-making tools for the waste-to-energy sector. Anessa's intelligent software supports decisions on complex project design and optimal operating conditions for anaerobic digestion facilities.
The company was founded in 2015 by Amir Akbari and Farough Motasemi as graduate students in UNB's Faculty of Engineering first encountered the problem of decision making on how best to deal with organic waste in landfills.
From there, they engaged Kevin Shiell for his knowledge in bioscience and Dr. Kenneth Kent, through UNB's Office of Research Services, for his knowledge of SaaS solutions to form the basis for co-founding Anessa.
"The bioscience community is strong and growing in NB thanks to the efforts of BioNB and their partners," said Akbari in a release. "As such, Anessa is very grateful to be recognized as a recipient of the NB Bioscience award. As a young company, every day provides new challenges and opportunities that we are eager to meet head-on to grow Anessa into a market leader in the clean technology sector."
Anessa was chosen by the awards committee after carefully considering all those who were nominated. Nominees were sent to BioNB through a survey sent out to all our partners, and fellow bioscience champions. The award's previous winners include ADI Systems, Sylvar Technologies, LaForge Bioenvironmental, and LuminUltra Technologies.
https://huddle.today/anessa-wins-new-brunswick-bioscience-achievement-award