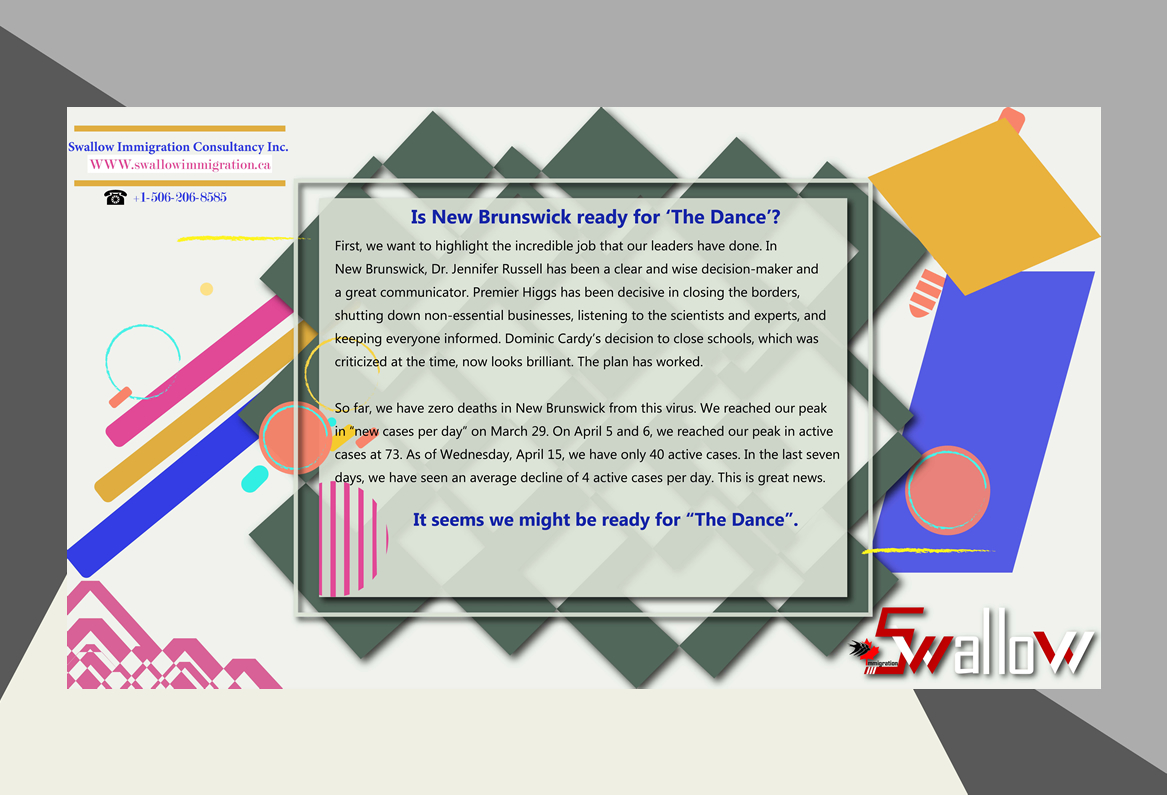 Is New Brunswick ready for 'The Dance'?
Apr 15, 2020
by Marcel LeBrun and David Alston
First, we want to highlight the incredible job that our leaders have done. In New Brunswick, Dr. Jennifer Russell has been a clear and wise decision-maker and a great communicator. Premier Higgs has been decisive in closing the borders, shutting down non-essential businesses, listening to the scientists and experts, and keeping everyone informed. Dominic Cardy's decision to close schools, which was criticized at the time, now looks brilliant. The plan has worked.
So far, we have zero deaths in New Brunswick from this virus. We reached our peak in "new cases per day" on March 29. On April 5 and 6, we reached our peak in active cases at 73. As of Wednesday, April 15, we have only 40 active cases. In the last seven days, we have seen an average decline of 4 active cases per day. This is great news.
The Recommendations are:
Hospitals in the state (region) must be able to safely treat all patients requiring hospitalization, without resorting to crisis standards of care.
A state needs to be able to at least test everyone who has symptoms.
The state is able to conduct monitoring of confirmed cases and contacts.
There must be a 14-day sustained reduction in new cases.
For us in New Brunswick, how close are we to meeting these criteria?
Our health care system has not been overwhelmed. Only 12 people in total have been hospitalized province-wide. We are in great shape for the next phase.
Our testing in New Brunswick has continued to expand, including as recently as April 13 where testing was expanded to include anyone with 2 out of 5 key symptoms. This is where we want to be.
In New Brunswick, we have been able to investigate each case. We need to ensure we maintain this capacity into the next phase.
In New Brunswick, our number of new cases has been declining for the past 17 days, since its peak on March 29 (15 new cases). Further, we are also now seeing a steady decline in Net Active cases, from a peak of 73 on April 5/6 to 40 on April 15.
It seems we might be ready for "The Dance".
For more information follow the link below: