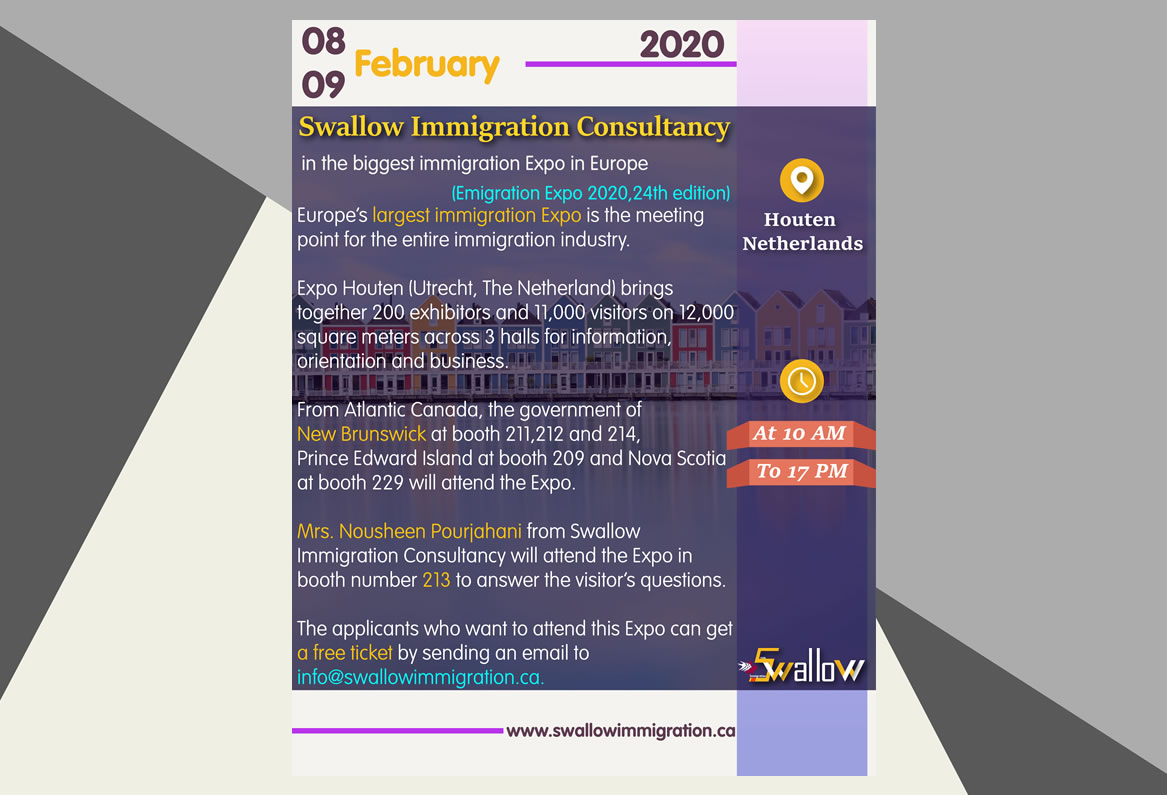 Swallow Immigration Consultancy in the biggest immigration Expo in Europe (Emigration Expo 2020,24th edition)
Europe's largest immigration Expo is the meeting point for the entire immigration industry.
Expo Houten (Utrecht, The Netherland) brings together 200 exhibitors and 11,000 visitors on 12,000 square meters across 3 halls for information, orientation and business.
From Atlantic Canada, the government of New Brunswick at booth 211,212 and 214, Prince Edward Island at booth 209 and Nova Scotia at booth 229 will attend the Expo.
Mrs. Nousheen Pourjahani from Swallow Immigration Consultancy will attend the Expo in booth number 213 to answer the visitor's questions.
The applicants who want to attend this Expo can get a free ticket by sending an email to info@swallowimmigration.ca.
The government of New Brunswick also have a particular interest in meeting those with recent* experience in one of the following professional sectors/positions:
* "recent" means within the past five years.
Health Care
NOC 3113 – Dentists
NOC 3012 – Registered Nurses and Registered Psychiatric Nurses
NOC 3233 – Licenced Practical Nurses

Skilled Trades
NOC 7231 – Machinists and machining and tooling inspectors
NOC 7232 – Tool and Die makers
NOC 7237 – Welders
Insurance
NOC 1212 – Supervisors: Finance, and insurance office workers
NOC 1312 – Insurance Adjusters and claims examiners
NOC 1313 – Insurance Agents and Brokers
Finance
NOC 0111 – Finance Managers
NOC 1111 – Financial Auditors and Accountants
NOC 1112 – Financial and Investment Analysts
NOC 4163 – Business Development Officers and Marketing Researchers and Consultants