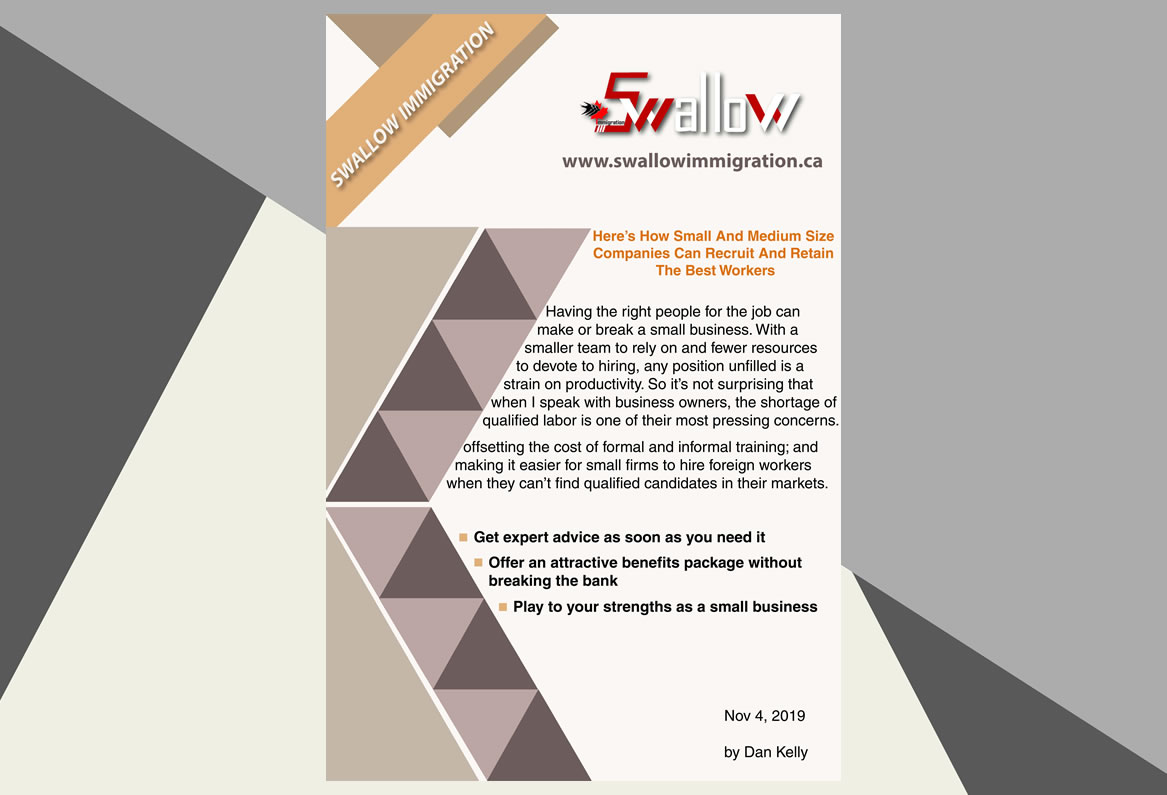 Here's How Small And Medium Size Companies Can Recruit And Retain The Best Workers
Nov 4, 2019
by Dan Kelly
Having the right people for the job can make or break a small business. With a smaller team to rely on and fewer resources to devote to hiring, any position unfilled is a strain on productivity. So it's not surprising that when I speak with business owners, the shortage of qualified labor is one of their most pressing concerns.
In fact, the shortage of skilled labor is the top factor limiting businesses' sales and production growth, according to CFIB's monthly Business Barometer. A vacant post means work going undone or a heavier load on your other employees – and often on you as the business owner. In the second quarter of 2019, 3.1 percent of all private-sector jobs in New Brunswick sat vacant for at least four months due to a lack of qualified candidates. That's a lot of lost productivity.
With the backing of the 110,000 small and medium-sized businesses that are our members, CFIB is asking the federal government to put in place measures to help businesses like yours staff up: encouraging youth employment by instituting an EI holiday for workers under 24; offsetting the cost of formal and informal training, and making it easier for small firms to hire foreign workers when they can't find qualified candidates in their markets.
Get expert advice as soon as you need it
They can also access resources like compliance checklists, a drug, and alcohol policy and up-to-date information on new rules and regulations. These tools are easy to adapt for your business and they help avoid problems you may run into.
Offer an attractive benefits package without breaking the bank
In some cases, you can also consider offering an overall benefits package to your employees and prospective hires. You may think these programs are too expensive and complex for your small business to compete with the big guys, but it may be worth a close look at CFIB's preferred rates for group insurance through Primasure.
CFIB's members also save on vital services with companies like Payworks to help manage payroll, time-off requests or vacation pay, freeing up valuable time for business owners
Play to your strengths as a small business
Small firms can often be much more nimble, so consider offering your employees flexible working hours, part-time or seasonal jobs, the opportunity to work from home, and time off in summer, when you can recruit students to fill in. Working for a small firm often also allows employees to grow faster, branch out and learn new skills by collaborating with people with different expertise, and have a tangible impact on the business.
For more information follow the link below:
https://huddle.today/heres-how-small-and-medium-size-companies-can-recruit-and-retain-the-best-workers